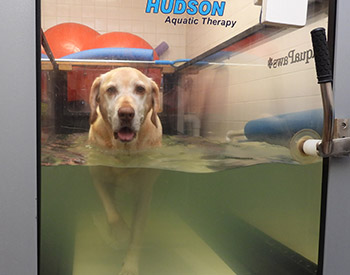 Rehabilitation Methods Underwater Treadmill (UWTM) The UWTM provides warmth, water pressure, resistance, and buoyancy. These
Rehabilitation therapy has many positive effects on your dog.
It can improve the quality of your dog's life by improving his/her strength, muscle mass, and range of motion. It can increase weight bearing on injured limbs, decrease pain, improve balance, and increase endurance; all of which result in improved function and ability to walk. Most importantly, it can mean that your dog might be happier, more comfortable, and able to keep up with the family once again!
Rehabilitative treatments can have a dramatic effect on pets that suffer from:
neurological illnesses
postoperative orthopedic or non surgical injuries
severe or chronic soft tissue injuries
chronic arthritis
weight management and/or fitness issues
decreased athletic performance
Dr. McLaughlin's first step is to evaluate your dog to determine its overall health and condition and obtain a full history. Based on the specifics of the injury and your own goals, he will create an individualized treatment plan for your pet. The patient's progress will be documented after each visit and the plan will be modified as the dog improves.
For some dogs, the process is short, perhaps only a few visits. For others, it could be much longer. Sessions generally run one to two hours, but some cases might require a shorter or longer appointment. All dogs and caregivers get homework consisting of specific exercises and things to do between appointments. These home exercise programs are modified as the treatment progresses.
All sessions are meant to be pain free. Ice is sometimes used to relieve pain, as well as massage and TENS (a form of electrical stimulation). Special care is always taken with each pet to ensure tissue and bone healing is maximized. Therapy can safely begin as soon as the day after surgery.