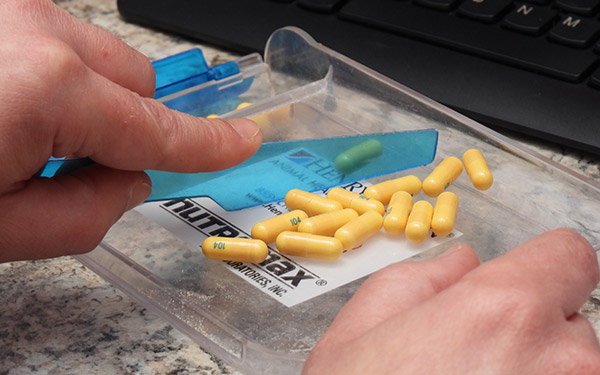 Norwalk Animal Hospital has an on-site, fully stocked line of products for your convenience. 
That means convenience for you and on-the-spot treatment for your pet.  We only carry the safest and most effective heartworm and flea and tick control preventatives for your pets.  When you buy your pet products directly from us, you can be sure that your products are legitimate and have been stored and cared for according to the manufacturer's instructions. We will also inform you of any side effects, the proper therapeutic dosage and discuss interactions with other medications.
We stock medications and products needed for wellness care, critical care, emergency situations and the best products to manage ear infections, airborne allergies, heartworm, fleas, intestinal worms and chronic medical conditions. If your pet has specialized requirements, we will use local store pharmacies and special compounding pharmacies to meet your needs (including transdermal technology).
We carry a full line of prescription diet products to meet the special nutritional needs of your pets. We stock Hills® and Royal Canin® diet foods.
Convenience… free shipping on all medications! (excluding foods). Doctor approval required for prescriptions.
In-Hospital Products Carried
Ancillary items:
Pet Odor Scented Candles
Equalizer
Bite Not Collars
Elizabethan Collars
Bitter Apple
Nail Trimmers
Pill Pockets
Pet Pillers
Tick Removers
Help Em Up Harness
Cat Attract Litter
Optixcare Eye Lube
Anti-icky poo
Tear Stain Wipes
Dental OTC Products:
CET Toothbrushes
CET Toothpaste
CET Oral Hygiene Kit
CET Oral Hygiene Rinse
Cross Tex Oral Tooth Gel
Tartar Shield Rawhide Chews
Trisdent Hygiene Rinse
Kong Toys
Vetradent Water Additive
Skin Products/Shampoos:
Douxo Pads
Douxo Mousse
Entederm
Gentizol
Goodwinol Ointment
Mupirocin Ointment
Silver Sulfadiazine Cream
Tritop Ointment
Neo-Predef Powder
Epi-Otic
Genesis Topical Spray
GentaSpray
Betagen Spray
Chlorhexiderm Shampoo
Hydrocortisone Shampoo
Skunk Odor Shampoo
Dermallay
Epiklean
Trizedta
Mal-a-ket
Malacetic Ultra Trizedta
TrizUltra Keto
Otomax
Dermabenss
Heartworm Preventatives:
Heartgard Plus
Interceptor Plus
Revolution
Proheart 12
Flea and Tick Preventatives:
Breakaway Cat Collars
Vectra 3D
Nexgard
Revolution
Capstar
Flea Combs
Centraguard
Simparica
Ears:
Baytril Otic
Conzol Lotion
Conofite Lotion
Gentacin Otic Solution
Gentizol
Milbemite Otic Solution
Osurnia
Surolan
Synotic Otic Solution
Zymox
Epiklean
Claro
Tresaderm
Easotic
Eyes:
Atropine Ophthalmic
Gentamicin Ophthalmic
Genteal Gel Drops
Neo Poly Dex
Neo Poly Bac
Neo Poly Bac with hydrocortisone
Optimmune
Prednisolone Acetate
Ofloxacin
Optix
Neo Poly Gramacidin
Dietary Supplements:
Canine Plus Vitamins
Capilex Hairball Control
Forbid Anti-Copraphagy
Panakare Tablets
Prozyme Powder
Lactulose
Enulose
Nutrical
Renalplus Gel
Tumil K
Tylan Powder
Viralys
Welactin Omega 3
Proviable
Cobalequin
Avmaquin
Food:
Hill's Prescription Diet Products
Royal Canin Products
Antibiotics:
Amoxicillin
Clindamycin
Baytril
Zeniquin
Cephalexin
Clavamox
Doxycycline
Metronidazole
Flagyl
SMZ-TMP
Zeniquin
Cefpodoxime
Convenia
Marboquin
Famciclovar
Deworming Medications:
Albon
Panacur Powder
Ponazuril
Pyrantel
Stongid
Metronidazole
Flagyl
Ketoconazole
Centraguard
Cardiac/Pulmonary Medications:
Aminophylline
Enalapril
Enacard
Furosemide
Lasix
Disal
Theophylline
Vetmedin
Semintra
Thyroid Medication, etc:
Alphatrak Supplies
Denamarin
Thyrozine
Thyroxine
Levothyroxine
Methimazole
Allergy Medications:
Atopica
Hydrocortisone
Hydroxyzine
Apoquel
Cytopoint
Gastrointestinal/Anti-Nausea/Urinary Incontinence/Appetite Stimulant:
Metronidazole Tablets
Metronidazole Liquid
Flagyl
Metoclopramide
Reglan
Sucralfate
Centrine
Cerenia
Lactulose
Mirtazipine
Phenylpropanolamine
Proin
Mirataz
Viralys
Nutrical
Renal Plus
Entyce
Endosorb
Steroids:
Dexamethasone
Hydrocortisone Liquid
Prednisolone
Temaril-P
Non-Steroidal Anti-inflammatories (NSAIDS):
Carprofen
Deramaxx
Metacam
Galliprant
Rimadyl
Onsior
Anxiety/Dementia/OCD:
Acepromazine
Cat Attract
Alira
Incurin
Sileo
Joint Supplements:
Phycox Max
Dasuquin Advanced
Hemp RX
CBD Oil