Post Operative Orthopedic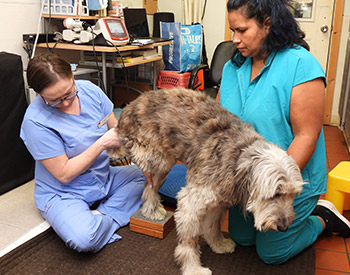 The goal of postoperative rehabilitation is to minimize pain and restore the dog's function to the highest level possible, ideally to that which the dog enjoyed prior to injury. The dog will benefit from therapy as soon as possible after surgery: laser treatments and E-stim will decrease postoperative swelling and pain; E-stim can also maintain muscle strength while the dog is recovering and unable to bear weight. Massage and range of motion will help keep the joints flexible. Further into the recovery, our focus shifts to include specific strengthening exercises targeting the affected areas.
Types of orthopedic conditions we treat:
Post orthopedic surgery:

Cranial Cruciate ligament repair (TPLO, TTA, etc.)
Patella surgery (luxating patella)
Femoral head ostectomy (FHO)
Fracture repair
Total hip replacement

Hip Dysplasia
Elbow Dysplasia
Non-surgical care for tendon/ligament injuries, cruciate tears, patella luxation
At Sound Paws Rehabilitation, we have extensive knowledge of the rehabilitation techniques needed to restore function and quality of life to your dog. Please call us today concerning any orthopedic injury your pet has experienced or if you feel your pet would benefit from orthopedic rehabilitation.