Dog and Cat Boarding in Norwalk CT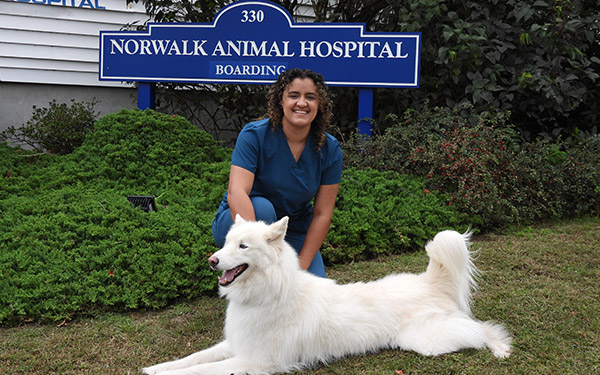 When you board your dog or cat with Norwalk Animal Hospital, your pet will be treated like our family.  We look forward to the time we spend with your pet!  We will feed, nurture and lavish attention on them. We will provide tender, loving, individual care along with 4-5 walks per day. Our boarding kennel is both air conditioned and heated for your pet's comfort. Boarding is available for clients on a first come basis due to the small kennel size.  All dogs staying in our kennel must be current on Rabies and Bordetella (kennel cough) vaccines, and all cats must be current on Rabies vaccine. All pets must have had a stool sample tested within the past twelve months.
Best of all, your dog or cat will be under the watchful eyes of our veterinarians and our professional technical staff while boarding with Norwalk Animal Hospital.  Your dog or cat will get extra attention and immediate veterinary care, should any medical issues arise.  You are welcome to bring your loved ones a favorite toy or blanket, but it is difficult for us to keep track of these items when laundered and it is possible that they might not go home with your pet. Our boarding prices are all inclusive, with the only exception being a small charge if medication needs to be given to your pet.
A free bath is included for those canine "guests" spending five days or more with us and a reduced cost for a bath for those that spend less time. 
Norwalk Pet Boarding Facilities
Our boarding facility drop off and pick-up hours are the same as our regular hospital hours:
Monday & Friday: 8:00 a.m. to 6:00 p.m.
Tue-Thur:  8:00 a.m. to 8:00 p.m.
Saturday: 9:00 a.m. to 5:00 p.m.
Sunday pick up and drop off available – must be prearranged and prepaid.
Click HERE for more information.
For boarding over long weekends and holidays, please make your reservations as early as possible as our limited space fills up quickly.