Covid-19 and Curbside Protocols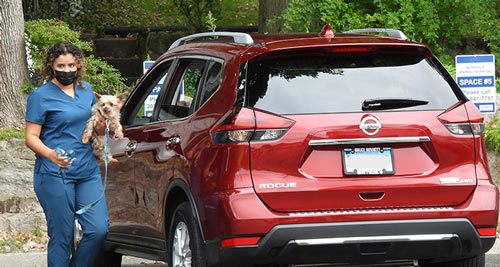 Norwalk Animal Hospital's Updated COVID-19 and Curbside Protocols
Fortunately the state of Connecticut continues to see COVID-19 positivity rates decrease. As such, at Norwalk Animal Hospital we will be loosening restrictions further. Starting on Monday, October 18, 2021 the following changes will be made to our current COVID/Curbside policies.
Current COVID/Curbside policies.
Clients no longer need to call us from the parking lot when they arrive. All clients, for any type of appointment, may walk directly into the building with their pets.
Temperature checks will no longer be taken upon entry, however if you're experiencing a fever, cough or shortness of breath or have been in contact with someone who tested positive for COVID-19, please call us to reschedule your pet's appointment.
If you would still like to receive curbside service, please call us when you arrive at the Hospital parking lot to inform our staff of your request and we will accommodate you.
Masks are optional.
We're looking forward to seeing many old and new faces back inside of Norwalk Animal
Hospital!!