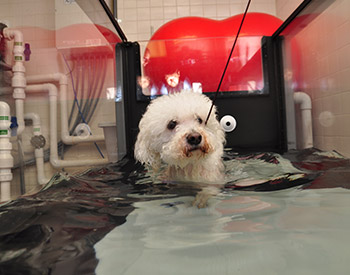 Underwater Treadmill (UWTM)
The UWTM provides warmth, water pressure, resistance, and buoyancy. These combine to reduce muscle tension and swelling, strengthen muscles while reducing joint impact, and retrain a damaged nervous system. In healthy patients, it provides a safe and controlled, yet strenuous, exercise program. The UWTM plays a role in almost every rehabilitation case and also provides an excellent treatment option for obesity, arthritis, and some behavioral problems.
Low Level LASER (Therapeutic/cold LASER)
LASER uses light energy to stimulate the metabolism of cells, resulting in faster healing. LASER decreases pain and muscle spasms, decreases swelling, promotes wound healing, and fights infection. It is used to treat damaged skin, cartilage, muscles, tendons and ligaments. LASER is an important part of the rehabilitation of orthopedic, arthritic and neurological patients; it is helpful both post-operatively and in chronic cases.