Rehabilitative Care for Dogs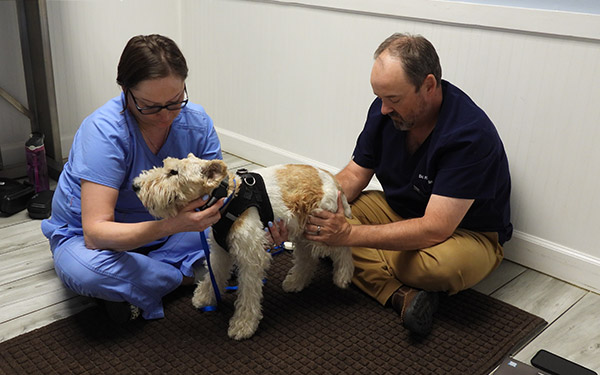 Our treatments are developed to fit your pet's individual needs.
Norwalk Animal Hospital offers an extensive array of rehabilitative treatments for dogs that have been injured or are recovering from recent surgery. If your pet is suffering from neurological illness, arthritis, soft tissue injuries, or weight management issues our hospital and affiliated rehabilitation center has services that can improve your dog's quality of life. We utilize the latest veterinary medical treatments available including laser therapy, TENS (transcutaneous electrical nerve stimulation), and aqua therapy via underwater treadmill to provide your canine companion with a safe and expedient means of recovery.
Our treatments are developed to fit your pet's individual needs. Our veterinarian and certified rehabilitation therapist, Dr. Harlan McLaughlin, works closely with each patient, documenting progress after each appointment and adjusting treatment as condition improves.
The approach used in rehabilitation and the number of visits required to achieve full recovery will depend on the severity of the injury. We will also suggest a number of at-home exercises that will extend the process between appointments.
Please visit the website of our affiliated service, Sound Paws Canine Rehabilitation and Conditioning, for more detailed information regarding the types of treatments provided and their potential benefits for your dog.