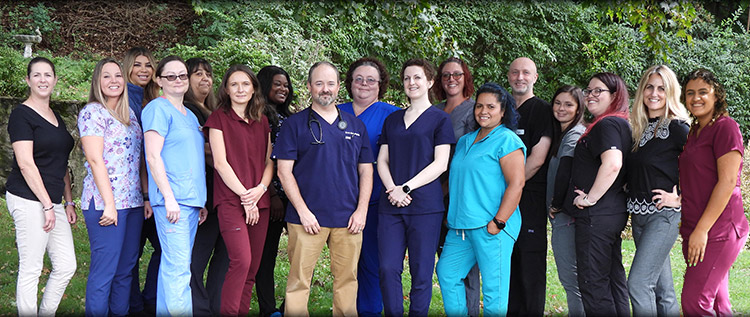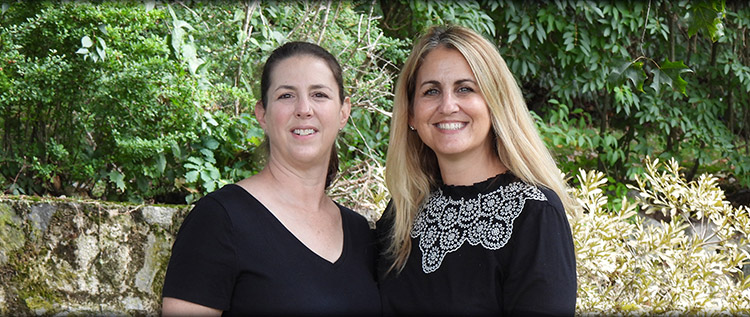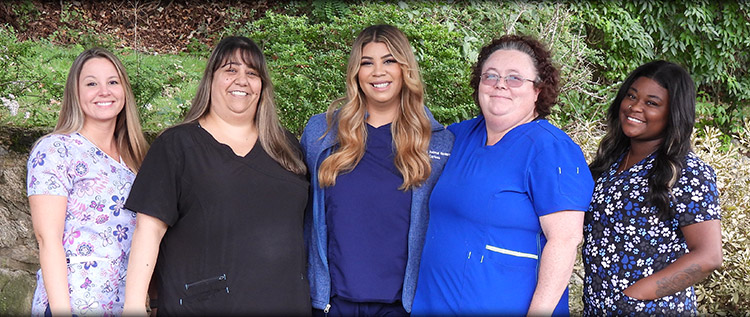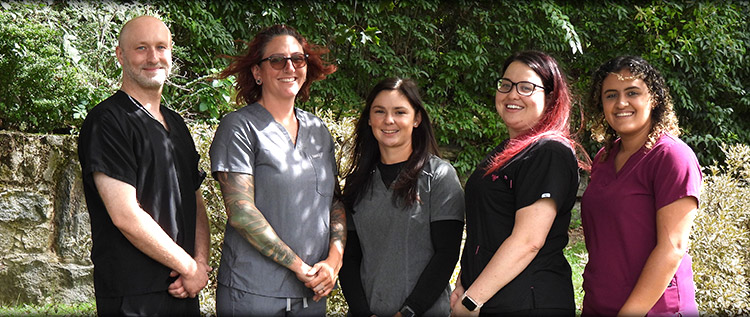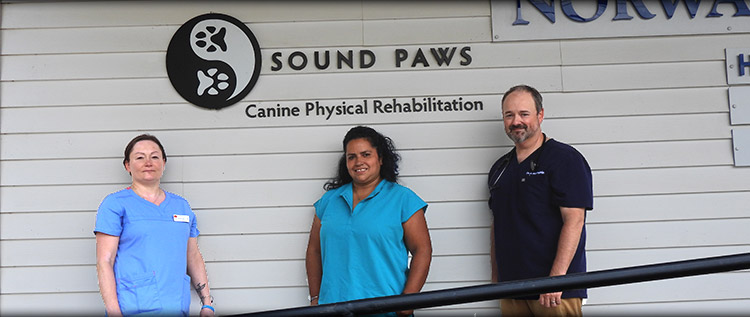 Home • About Us
Meet Our Staff
Thank you visiting our staff page. We strive to provide excellent veterinary care, client service and education to strengthen the bond between our clients and their pets. Many of our staff speak spanish or polish, allowing us to better serve the community. We hope you feel the love and compassion we have for your pet during your next visit with us!
Pam Williams,
Practice Manager
I grew up on the North Shore of Long Island then graduated from Lake Forest College. I then graduated from BelRea Institute of Animal Technology. I have worked as a Certified Veterinary Technician and Practice Manager in Illinois, Colorado, and Connecticut and have been at Norwalk Animal Hospital since 1999. Outside of work I enjoy horseback riding, hiking, and spending time with my three teenage children and four pets.
---
Lynne Dionian
Practice Manager
I grew up in Staten Island, N.Y. where I graduated from SUNY Buffalo, then received my Master's in Counseling Psychology from New York University. Before coming to Norwalk Animal Hospital I worked in a variety of settings including educational institutions, non-profit organizations, community agencies, and the corporate world. In my spare time I enjoy painting, spin classes, going to the beach, and spending time with my family and adorable Havanese, Britney Jean (aka Bee Boo).
---
Joanna B. McLaughlin,
LVT, CCRA, Licensed Veterinary Technician, Certified Canine Rehabilitation Assistant
I graduated from Mercy College in 1999 with a Bachelor's of Science degree in Veterinary Technology. I became a Licensed Veterinary Technician shortly after graduation. In 2000, I began working at Norwalk Animal Hospital as a technician. In 2012 I completed my certification through the Canine Rehabilitation Institute and joined my husband at Sound Paws. I developed an interest in physical therapy after experiencing its benefits first hand, with my young child. I have seen how much rehab can also help animals and am very proud to be part of the profession.
---
Josefina Aguilar,
Rehabilitation Technician
I have lived in Norwalk, CT since 1990. Of all the jobs I have held, working in the veterinary field has been the most rewarding. I have been working in the veterinary field for over seven years. In those years it has been a great learning experience. When not working I enjoy spending time with my family, petsitting, and dog walks.
---
Christine Ball,
CVT, Senior Treatment Technician
Hi, I'm Christine,one of the technicians at Norwalk Animal Hospital. I am a Certified Veterinary Technician and have been with the Hospital since 2001. Like many of our clients I have several pets of my own including a dog (Emi), three cats (Aila, Miyu, and Renji), and two parrots (Handsome and Grey-Bird) - all of which were rescues. I have always had a special bond with animals and am glad to be able to work with them on a daily basis. I use my knowledge and passion to help others form a greater understanding of veterinary technology and help them to provide compassionate care for patients, as well as clients, in our practice.
---
Anna Blaszkiewicz,
Office Assistant
I'm Anna, the Office Assistant at Norwalk Animal Hospital. I grew up in Poland and moved to the US in 1993 and graduated high school in Norwalk. I have been at NAH since 2008, starting at the Front Desk. I take a great deal of pride in my work and cherish the long-time relationships I've formed with clients. I have always had a special bond with animals, starting at an early age with our family Doberman and Giant Schnauzer. One of my greatest joys is spending time with my beloved English Pointer, Lily. I have three awesome nieces and a nephew, and I love spending time with family and friends. I have an active role in a local non-profit formed in honor of my late niece, Isabella, who battled Spinal Muscular Atrophy and help plan her memorial walk every year. I also enjoy baking and movies.
---
Mollee Kranes,
Head Technician
My love for animals started when I was a kid and my parents were hugely involved with greyhound rescue. At the age of 16 I started working in the veterinary field and all I wanted to do was...more. Over the years I have learned as much as I could (and continue to do so! ) to help our best friends. I love anesthesiology, emergency care, behavior, and training. I am a proud rescue mother of a pit bull/lab mix, a great dane, 2 great cats (all white and tortoise shell), hermit crabs and a chameleon. In my spare time I love boating, fishing, playing pool, and adventuring with the family (2 and 4 legged! ).
---
Tom Brown,
Veterinary Technician
I was born in Norwalk and have lived here most of my life. I started working with animals at pet stores then moved on to veterinary medicine. When I first came to Norwalk Animal Hospital in 2004, I began with reception and kennel work and then became a technician. I have had a few different pets including a mixed breed dog, four Florida Bark Scorpions, two Leopard Geckos, a Savannah Monitor Lizard, and currently have two male cats. In my free time I enjoy kayaking, camping and playing pool.
---
Amanda McGarry,
Technician
My name is Amanda and I'm a Technician Assistant at Norwalk Animal Hospital. I've spent my life around animals of all kinds, especially horses. When I went to college I started working in show barns and made my passion my career. I'm currently a student at Penn Foster to become a certified Veterinary Technician with goals to become a large animal Tech. I am the proud mom of a dachsund, a pitbull, a cat and a horse. In my spare time I love to hike and compete with my horse at local and away shows.
---
Kathry (Kat) Junqueira,
Technician
Hi my name is Kat! I currently live in Norwalk and am working towards a biology degree as well as achieving my certification in wildlife rehabilitation. I've always had a special connection with animals starting from a young age and remember vividly badgering my parents for more pets rather than gifts. I have two beautiful dachshunds at home named Dory and Kora who I love to take to the dog park as well as hiking. My affinity for the furry, scaled, and feathered has taught me endless love and patience which I get to practice every day here at Norwalk Animal Hospital.
---
Nicole Allen,
Receptionist
Hi, I'm Nicole. I was raised in Fairfield County. I've always loved being around animals and I'm very happy to be part of the Norwalk Animal Hospital Team. In my spare time I enjoy spending time with friends and family. I love taking my daughter hiking and camping. I have two wonderful pets, an english bulldog and a bearded dragon.
---
Carissa Benoit,
Receptionist
Hi, my name is Carissa! I'm from Milford CT and have lived there my entire life. Ever since I was little I had a passion for helping animals. I went to school to become a certified veterinary assistant and I'm currently enrolled to become a technician. I have a beautiful Siberian Husky. During our free time we love snow storms, going for runs, and stopping to get some ice cream.
---
Jodie Fretina,
Receptionist
Hi my name is Jodie Fretina and I was born and raised in Norwalk. Having a love and passion for taking care of all sorts of animals came at an early age for me. From raising rabbits and chickens to having dogs growing up. I've been in the Vet field for over 10 years and I still enjoy learning new things every day. Helping animals and educating clients is something that I really enjoy doing. When I'm not at work I enjoy spending time with family and friends. I also enjoy boating, camping, going to the dog park, and cooking. I have a mini Australian shepherd named Lucy.
---
DeMara Jamison,
Receptionist
Hi my name is DeMara and my bio is coming soon!
---
Madelyne Medina-Rentas,
Kennel Attendant
Hey guys! I'm Madelyne and I was born and raised in Bridgeport! My father was a school bus driver and took tons of classes to the Beardsley Zoo and it was love at first sight. I am currently pursuing an associates in Veterinary Technician and working towards my certification. I love being creative and doing fun things like painting, drawing and singing in my church choir! I have a scaley friend at home named Gus who is a ball python. My love for animals has given me endless opportunities to learn and grow in this field and I cannot wait to see what the future holds!
---