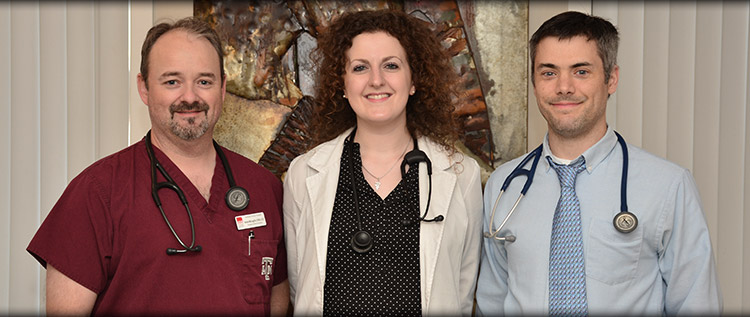 Home • About Us • Veterinarians
Meet Our Veterinarians
Harlan McLaughlin, DVM, CCRT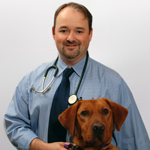 I am originally from Maine, but also spent time growing up in Texas. I completed high school and college in San Antonio before graduating from Texas A&M College of Veterinary Medicine in 1999. Shortly after graduation, I moved to Connecticut and started practicing at Norwalk Animal Hospital. I became a partner in 2009 and sole owner in 2015. In 2008 I attended a meeting about Physical Rehabilitation because I wanted to see how I might be able to help my family´s newly acquired three-legged Yorkie. I was immediately hooked and began looking for more formal training. In the spring of 2009, I started my first course at the Canine Rehabilitation Institute in Florida. I finished my training a year and a half later and became a Certified Canine Rehabilitation Therapist, or CCRT. I am pleased to be heading our canine rehabilitation practice. You can read more about our rehab services at Sound Paws Canine Physical Rehabilitation and Conditioning, www.soundpawsrehab.com. Sound Paws was born in the spring of 2011 with a mission to provide both my general practice patients and referrals with a state of the art rehabilitation facility.
Away from work, I enjoy spending time with my family, kayaking, playing ice hockey and riding my Harley. I currently have two dogs, and three cats.
---
Greg Stecker, DVM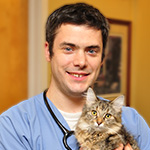 I originally moved to Norwalk from Texas with my family when I was eight years old, and growing up we always entrusted the Norwalk Animal Hospital with our pets' care, going back nearly thirty years. After graduating from the Tufts Cummings School of Veterinary Medicine in 2011 and completing a demanding one-year rotating internship at Ocean State Veterinary Specialists in Rhode Island in 2012, my veterinary life came full circle when I signed on as an associate at the Norwalk Animal Hospital. I have been privileged not only to be able to work in my hometown, but also at a practice I have known and respected for so many years. While medical and surgical conditions of cats and dogs are my primary areas of interest, I also enjoy the challenges presented working with reptiles and small mammals.
I currently own four cats, two guinea pigs, and a chocolate lab named Brady. When not working, I love spending time with my wife and daughters, and feel most relaxed cooking, playing guitar, and tending my vegetable garden.
---
Melissa D. Wolf, DVM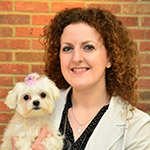 I was born and raised in Queens, New York and wanted nothing more than to become a veterinarian since I was three years old. In 2012 I received my Bachelor of Science degree in Biology, with a minor in Chemistry at Sacred Heart University in Fairfield, CT. I worked for several years as a veterinary assistant at a small animal clinic in Roslyn, New York before attending The Ohio State University College of Veterinary Medicine in 2014. During my four years at Ohio State, I developed a special interest in Ophthalmology and Dentistry. I am very excited to use this knowledge, as well as my medical experience, while working alongside the fantastic Doctors and staff at Norwalk Animal Hospital. In my free time, I enjoy hiking, volleyball, and archery, as well as spending time with my boyfriend, family, and our family's golden retriever, Timber.
Dr. Wolf is a fear free certified veterinarian.