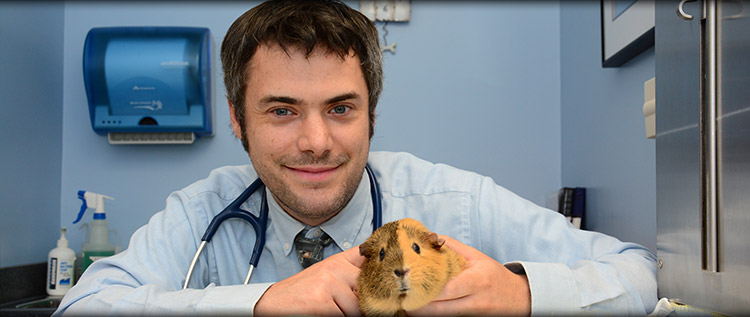 Home • Veterinary Services • Exotic Pet Care
Exotic Pet Care
What is an Exotic Pet?
The term "exotic pet" applies to any household pet other than the more traditional dog or cat.
Which Exotic Pets are seen at Norwalk Animal Hospital?
Small mammals (rabbits, ferrets, guinea pigs, chinchillas, rats, mice, hamsters, and other rodents) and reptiles (snakes,lizards,turtles,tortoises).
New Pets
We recommend that all newly acquired exotic pets be kept separate from your other pets one month after purchase, and should have an initial health evaluation by a veterinarian prior to introduction. During this veterinary visit, suggestions for how best to care for your new pet are also discussed. Many pet stores offer a warranty on newly purchased animals that lasts for 2-3 weeks, and it is ideal to schedule a veterinary visit in this time frame. These measures are vital to ensuring that you have obtained a healthy pet free of diseases or infections that may be introduced into your collection.
Wellness Exams and Preventative Care
The health and well-being of exotic pets benefits greatly from regular checkups and wellness visits. The development of health issues can be gradual and difficult to detect by even the most diligent pet owner, underscoring the importance of regular veterinary examinations. During these visits, your pet receives a full physical exam and health checkup, thorough evaluation of husbandry practices, and recommendations for improvement where necessary. We offer a wide array of wellness services for exotic patients here at the Norwalk Animal Hospital, including:
Vaccination
Fecal exam
Thorough oral examination
Evaluation for external parasites
Weight checks
Blood screening
Sex determination
Spay / neuter procedures
Husbandry review and recommendations
Behavioral counseling
Diagnostic imaging
Nail trims
How to Tell When Your Exotic Pet is Sick
The best treatment for any disorder is catching it early, before they are showing signs of illness. Exotic pets are skilled at hiding problems. This ability helps them to survive in the wild, where displaying signs of illness or injury can be the difference between life and death. Unfortunately, this means that when they finally do let us know that there is a problem, it is often advanced and more difficult to resolve. Signs to watch for include (but are not limited to):
Decreased activity
Decreased appetite
Weight loss
Changes in stool or urine production or appearance
Ocular or nasal discharge
Any sign of blood on the animal or in its enclosure
Muscle twitching, weakness
Changes in respiratory rate or effort
Witnessed or suspected injuries
Call us as soon as possible if your pet is displaying any concerning signs!
Bringing Your Pet to Norwalk Animal Hospital
Here at Norwalk Animal Hospital, we recognize that coming to the vet can be a stressful experience for any pet, particularly our exotic patients. Our staff and doctors are very sensitive to this fact and do whatever we can to limit this stress. To streamline the process and make your visit more efficient, we ask that you arrive 15 minutes early to fill out new patient paperwork.
If possible, your pet may be more relaxed if brought in its regular enclosure. This will be helpful to assess your setup and make any recommendations. It is also best not to clean the enclosure prior to bringing your pet in. This will allow your exotic pet to be surrounded by familiar, comfortable smells, and will also retain samples for diagnostic testing to better evaluate your pet. For reptile patients, it is best to bring them with some sort of heated transport, such as a warm towel or hot water bottle.
We look forward to working with you and your exotic pets to help them live as long, healthy lives as possible.