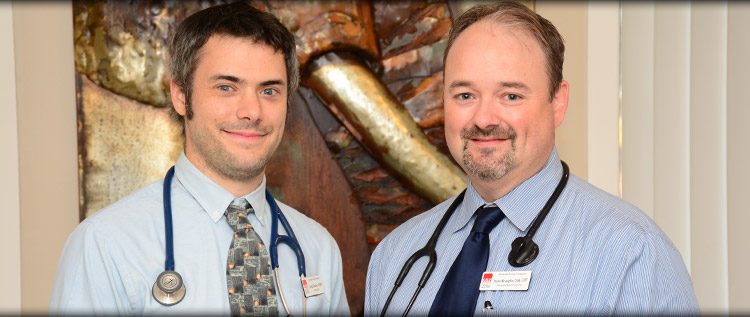 Home • About Us • Veterinarians
Meet Our Veterinarians
Harlan McLaughlin, DVM, CCRT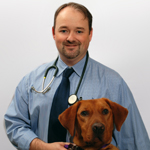 I am originally from Maine, but also spent time growing up in Texas. I completed high school and college in San Antonio before graduating from Texas A&M College of Veterinary Medicine in 1999. Shortly after graduation, I moved to Connecticut and started practicing at Norwalk Animal Hospital. I became a partner in 2009 and sole owner in 2015. In 2008 I attended a meeting about Physical Rehabilitation because I wanted to see how I might be able to help my family´s newly acquired three-legged Yorkie. I was immediately hooked and began looking for more formal training. In the spring of 2009, I started my first course at the Canine Rehabilitation Institute in Florida. I finished my training a year and a half later and became a Certified Canine Rehabilitation Therapist, or CCRT. I am pleased to be heading our canine rehabilitation practice. You can read more about our rehab services at Sound Paws Canine Physical Rehabilitation and Conditioning, www.soundpawsrehab.com. Sound Paws was born in the spring of 2011 with a mission to provide both my general practice patients and referrals with a state of the art rehabilitation facility.
Away from work, I enjoy spending time with my family, kayaking, playing ice hockey and riding my Harley. I currently have two dogs, and three cats.
---
Greg Stecker, DVM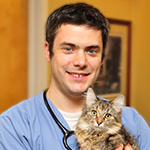 I moved to Norwalk in 1993 when my family came here from Texas, and growing up, our pets have always gone to the Norwalk Animal Hospital for their veterinary care. I graduated from Notre Dame High School in Fairfield in 2003, then did my undergrad at Boston College where I graduated in 2007. After college, I went straight into veterinary school at Tufts University in Grafton, MA, where I received my DVM degree in 2011. I completed a year-long internship at Ocean State Veterinary Specialists, a busy emergency and referral hospital in East Greenwich, RI in July 2012. Among the many skills I acquired in my time there, I developed a particular interest in exotic animal practice. I was very excited to return to my hometown after so many years away and join such a well-established practice.
I currently live in Norwalk with my wife, Stephanie, our dog Brady, three cats, and three mice. In my spare time, I play guitar and harmonica and also enjoy biking, playing soccer, and cooking.